Microlight and Ultralight Flying


Latest comments received from Gavin, in Buckinghamshire.....His wife isn't impressed!

"
Hi I have been researching microlighting with the desire to take it up, as my chosen method of flight. I have my first trial flight booked for Thursday and am getting obsessed. Your videos and adventures have only fuelled this and my wife to be feels that the wedding is playing second fiddle to a hobby that I have not even started. Thank you again for a great site and all the inspiration. regards Gavin, Aylesbury, Bucks"

I also received a great E-Mail from Wayne at North Coates where he is training. His new Pegasus Quik is nearly ready to be delivered and I was inspired by his story.

"
Hi Paul......

Just wanted to say how much I enjoy your website and how it has encouraged me with my microlight flying. I started my training last June at North Coates, Lincolnshire and have spent lots of time since then reading your articles and viewing the videos. My training was made that little more difficult as I am a double below knee amputee.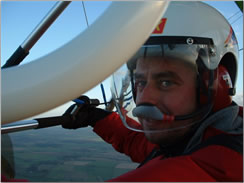 Click to see a large version

However my instructor Robert Mckellar was very supportive. I had a couple of lessons in his Quantum 912 before buying my own Quantum 503 which was then modified for me at P&M.

I have now passed my GFT and the necessary written exams, sold the 503 and am looking forward to taking delivery of my new Pegasus Quik! During those 10 months when the weather has been miserable or I have been struggling with the training, a quick browse through your website has got the motivation renewed and it has helped me immensely to gain my NPPL-M.

Thank you very much and I look forward to the updates on your website.
Best wishes, Wayne Lofts.
"

23rd May 2006
The biggest Microlight part in town is about to start in a few weeks!
"The Wight Party" makes the Isle of Wight, a small island on the southern tip of the UK, one of the busiest airspaces in the country between the 17th and 18th June 2006!

Many hundreds of Microlight aircraft flock to this large event which is run purely for run, and over 1100 aircraft movements were made last year! Don't miss it folks!


I've been sent 2 great video clips by John and Paul respectively. There are both a must-watch. The first is from Paul, and details his emergency ENGINE OUT landing! Click here to visit Paul's website and click "Engine Out" on the left to see it - it will send shivers down your spine!

The second is from and demonstrates that some people really are mad... A Reverse Bungy jump, followed by an opening of a Parachute for the remainder of the drop to earth! Click here to watch!

Since I last wrote an entry, a few things have happened. I have been to Sun 'n' Fun 2006 which turned out to be a bit more than that with 1 week in Chicago, a day at the beach, 2 days at NASA (Cape Canaveral), a day at the FREEDOM OF FLIGHT museum which was ABSOLUTELY the best Musuem I have ever been to, aviation or other! Check out the site by clicking here

We only spent 1 day at the airshow this time, there was too much else to see!

Not long after I got back, I hooked up with Jim, Roger, Andy and Geoff and did demo flights in my Quik at Popham Microlight Trade fair which was my first demo flying. Brilliant! I'll be doing lots more in the future. Check out the pictures of Vicki, the eager passenger on the right. :-)

24th January 2006

You want Microlight and Ultralight Flying videos ?
Well between us, we have it all covered! Check out my site, Spencers site at www.trikepilot.com
and Damiens' site at www.emuvideo.com which is the latest addition to the flying world. There are some great (but very large) movies on there. Ensure you have a fast connection!
Skydiving without a Parachute open Along a Mountain

!

Check out this link to another adrenaline fulled Skydiver, this time freefalling along the profile of a ski-mountain downslope! The stunts just get even more crazy! You'll need Quicktime and broadband to view this, as it is 5Mb.

Even MORE Shocking??
I've been sent another skydive clip from Alan. It's this poor guys first solo skydive.. what could possibly go wrong ... ?
Click here to find out!



Frode in Norway


Don't forget to check out Frode's website here ... His mountain flying pictures are truly awe-inspiring - and I really love the desktop calendar picture this month! Thanks Frode!

Our Field in fantastic 360 degree Virtual Panorama

I have been experimenting with 360 Degree virtual Panoramas. Standby for an aerial version among the clouds, but for now, check out this trial of our field from the ground. Click here to watch.

Recommended for broadband only - it will prompt you install a viewer, but it will be worth it when I do the aerial version. Let me know what you think!
Another Crazy Aerial Adventure Sport
It doesn't get any crazier than this.... and I still consider it a massive Aerial Adventure! Freefall Skydiving - WITHOUT a parachute strapped on!
Click here to watch the video!

Paul